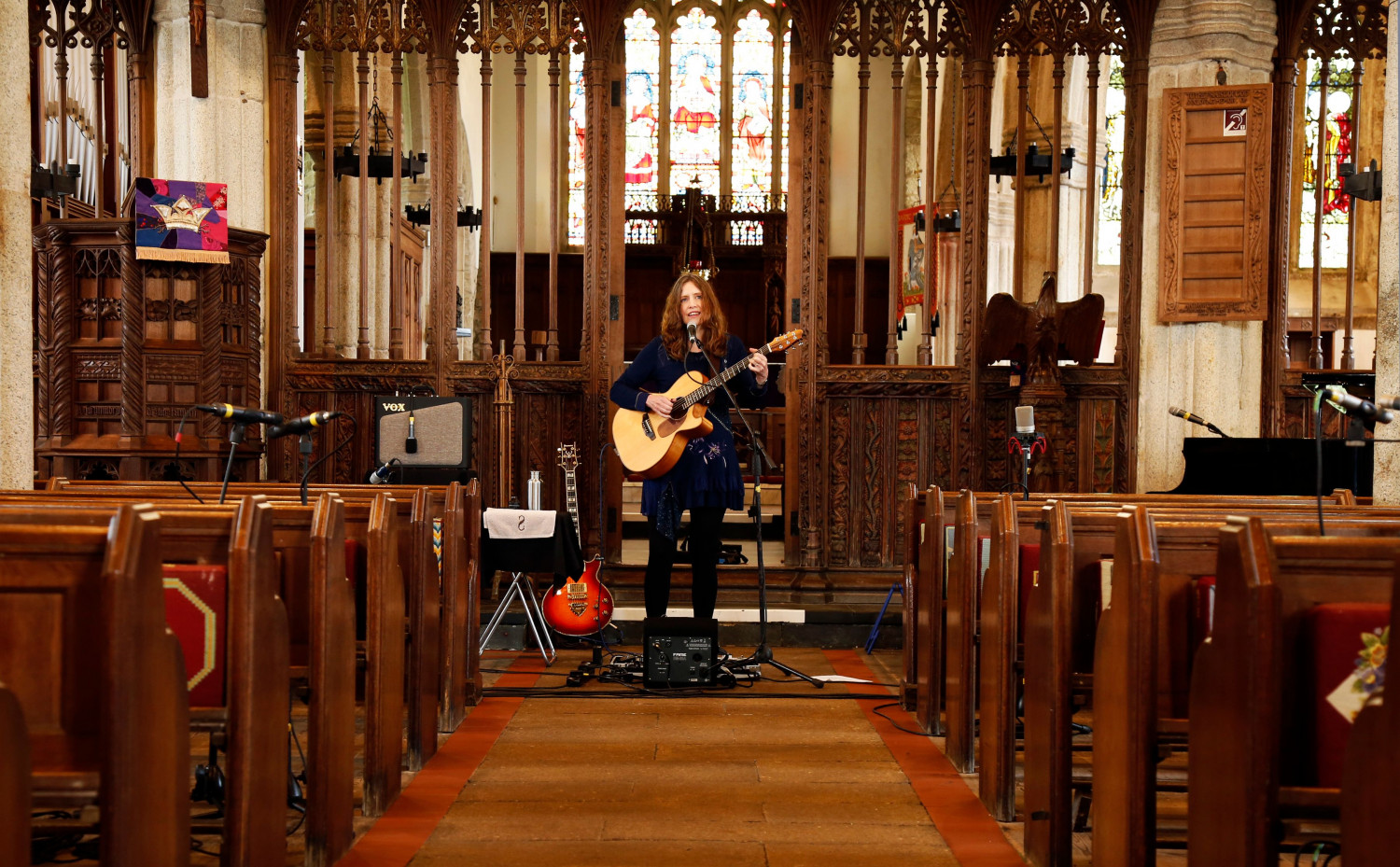 Sarah McQuaid in St Buryan Church. Photo by Mawgan Lewis
Sarah McQuaid St Buryan Sessions Album Launch Benefit Concert took place at St Buryan Church on Friday 15 Oct 2021 and raised £669 for Church funds.
Sarah McQuaid, Lifetime Achievement Award Winner, Ards International Guitar Festival.
'One of the most instantly recognisable voices in curent music... Shades of Joni Mitchell in a jam with Karen Carpenter and Lana Del Rey.' Trust The Doc
'Her subtle mastery onstage launches her straight into my fave shows ever.' Huffington Post
-------------------------------------
St Buryan Church Choir member Sarah McQuaid has begun rolling out The St Buryan Sessions, a new series of videos and single track releases filmed and recorded live (with no audience due to COVID-19) in our beautiful St Buryan Church on 1 July 2020.
"The idea was to recreate the energy, heart, soul and magic of a live performance in a quality production that would stand the test of time," Sarah explains. "Thanks to the generosity of the 184 individuals who contributed to my crowdfunding campaign, to Canon Vanda Perrett and the St Buryan Parish Council, to the St Buryan Male Voice Choir for letting me use their lovely grand piano, to the immense skill of engineer/producer Martin Stansbury of Cacophony Cottage Studio, filmmaker Mawgan Lewis of Purple Knif and camera operator John Crooks, and most of all to the church itself, whose glorious natural acoustic we captured with the help of ambient microphones placed around the soaring space – I believe I've achieved that aim. I hope you think so, too!"
The first single, "The Silence Above Us", was released on Friday 29 January 2021, followed by premiere/watch party events on Facebook and YouTube (click here to watch the video; the single is also available as a pay-what-you-want download via Sarah's Bandcamp page).
The next one, "Charlie's Gone Home", is scheduled for release on Friday 19 February, with the YouTube video premiere taking place on Saturday the 20th at 8pm. Sarah will be on hand in the "chat" from 7:30pm onwards to answer questions and respond to feedback, and is hoping for a good online turnout – click the bell icon here if you'd like to set yourself a reminder to tune in.
Sarah will be continuing to roll out singles and videos every few weeks over the coming year, culminating in the release of The St Buryan Sessions as an album on CD and double LP, with accompanying concert film, in late summer. To be kept informed about new videos and singles as they come out, take any or (ideally!) all of the following steps:
Click the "Subscribe" button on

Sarah's YouTube page

Click the "Follow" button on

Sarah's Bandcamp page

Click the "Follow" button on

Sarah's Spotify page
For more information about Sarah, visit sarahmcquaid.com