News update from Rev'd Canon Vanda Perrett - Sunday 24th January 2021
It was announced in our worship services today Sunday 24th January that our Rector of the Land's End Benefice, Rev'd Canon Vanda Perrett has accepted the offer of a new role as Managing Chaplain at Her Majesty's Young Offenders Institute Werrington which is near Stoke-on-Trent. This is an under 18 male prison, which houses a maximum of 118 children. (The inmates are under 18 and so are legally known as children.)
Vanda will be leading the multi-faith department which consists of 15 other chaplaincy colleagues working together with the whole establishment to give these children the best possible chance to change their lives around. Vanda was offered the role in November but has been waiting for the Home Office enhanced clearance before it could be announced.
Bob and Vanda have loved living in West Penwith, with all the beauty and wonder of this part of the world. It has been a privilege to share in the Christian story of this land and its people, within such holy buildings.
While this new posting was unexpected, Vanda started her ministry as a lay chaplain in HMP Guys Marsh and had often felt that there was a nudge from God that this way of ministering was not yet finished. Changing from parish ministry with its work of buildings and finances, weddings, and fundraising to the work of a prison chaplain will take some getting used to, but God's call to this ministry has become more urgent and she is convinced that prison ministry is where God wants her to serve now.
Vanda's final service will be on 14th March, Mothering Sunday.
Please pray for the churches and communities here; St Buryan, St Levan and Sennen, for the prison at Werrington, for our Rural Dean Father Jeff as he leads the vacancy, and for Bob, Vanda, Dylan and Bella as they begin a new way of following God's call in this new adventure.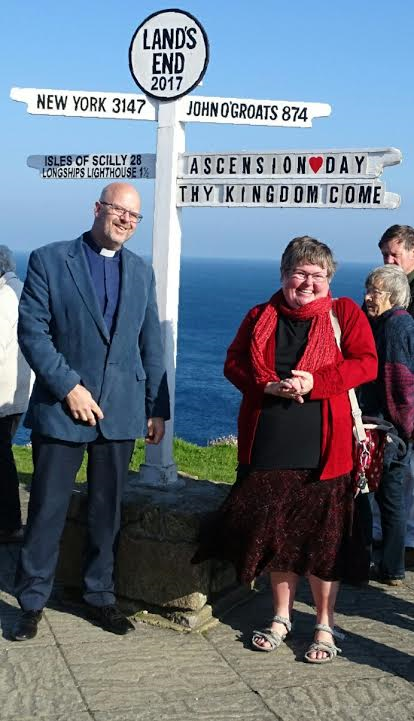 Thy Kingdom Come O Lord indeed.
Rev'd Canon Vanda Perrett with the then Archdeacon Bill Stuart White
Photo by Kevin Hannigan,